History of the Charity
The Charity was founded by a London doctor, C. Frank Cosin, and his wife Pamela (nee Stebbings) in 1977 as a memorial to Hedley Peter Stebbings, a lieutenant in the Royal Regiment of Artillery who was killed in action in Crete on 24 May 1941 at the age of 21.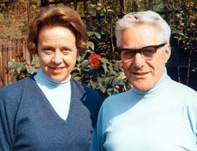 Peter was Pam's younger brother, and the Charity was to be known as the Peter Stebbings Memorial Charity.
Frank Cosin was the son of Benjamin and Rosie, Jewish immigrants who came to this country from Lithuania (then part of the Russian empire) in the early 1900s. Frank Cosin never forgot his roots or the hardships which his mother and father had faced in their early years.
They supported their two sons through medical school and Frank qualified in 1929 from Guy's Hospital and became a successful radiologist and general physician. His younger brother Lionel also went to Guy's and became a world renowned geriatrician.
Frank and Pam Cosin set up the Peter Stebbings Memorial Charity in memory of a young man who lost his life in a war, the outcome of which preserved the liberties of such immigrant families.
The Charity's income is derived from its investment assets. The Trustees adopt a defined ethical approach to investment.
---