Grant Policy & FAQs
Please note that the Charity does not fund individuals, only registered charities. The Charity receives more applications than it has funds to support. In many cases it may not be possible to make grants for projects within the funding priorities.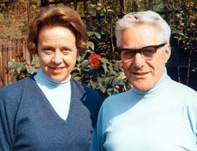 The Peter Stebbings Memorial Charity ("the Charity") gives grants exclusively to charities registered with the U.K. Charity Commission. Projects funded are usually delivered in London, and also in the developing world. Generally grants go to charities where the grant will make a difference and where the Trustees can see how the money is being used. Please note that charities not registered with the U.K. Charity Commission are not eligible to apply.
Grants are made at regular intervals during the year and the total level of grants at present is approximately £350,000 a year.
The Trustees are concerned that their grant support will make a real difference to the work of applicant organisations.
Generally, the Trustees assist small to medium-sized charities with annual incomes of up to £5m.
The Trustees fund projects, but are willing to consider core funding for organisations whose work they know.
Local (London) charities have been helped where there is a link with the Trusteesí work or knowledge - this means London-based local charities, and not regional ones.
Restrictions and exclusions
The Charity will not assist:
individuals
large national or international charities
animal welfare
publications and journals (unless as part of a supported project)
general appeals
any charity whose beneficiaries are restricted to particular faiths
educational institutions, unless for a particular project the trustees wish to support
arts organisations, unless there is a strong social welfare focus to the work (e.g. community arts projects)
Grant Conditions
All grants are awarded subject to general and specific conditions which must be met. Click to Grant Conditions
FAQs
We are a newly registered charity, can we apply?
We require one yearís audited accounts to be submitted with an application. If you have not been operating as a charity long enough to have at least one yearís audited accounts, you are not eligible to apply.


How much should we apply for?
We donít have any defined limits to the size of grants we are willing to make. However, we usually make 50 - 100 grants each year and we would expect to award around £500k a year in the coming years. We will be more inclined to consider larger grants to organisations we have supported previously. We recommend that first time applicants ask for grants of between £3,000 and £10,000.


We have previously made an unsuccessful application. How soon can we re-apply?
We ask that you wait 18 months between submitting applications.


Does the Trust have any geographical restrictions on its funding?
In the U.K., we only support projects taking place in London, unless the charityís work is known to the Trust. Overseas, we only support projects taking place in Sub-Saharan Africa. Please donít apply if your project is taking place elsewhere.


Can we apply for Core Costs?
We prefer to assist specific projects where we can assess the impact of our support. However, we also consider applications relating to general funds, or core costs, where the Trustees have some familiarity with the organisation and its effectiveness.


Can we apply for a grant to be paid across multiple years?
As above, if you have previously received a one-off project grant from us, you are eligible to apply for a multi-year grant. Our preferred amount is £5,000 per year for three years, or £10,000 per year for three years, but we are happy to consider other configurations depending on need.
You may wish to review our accounts for details of all previously awarded grants.
If you have any further questions regarding your eligibility, please email info@peterstebbingsmemorialcharity.org
---