Grant Policy
Please note that the Charity does not fund individuals, only registered charities. The Charity receives more applications than it has funds to support. In many cases it may not be possible to make grants for projects within the funding priorities.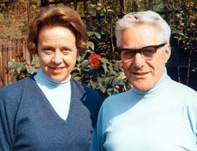 Grants are made at regular intervals during the year and the total level of grants at present is approximately £350,000 a year.
The Trustees are concerned that their grant support will make a real difference to the work of applicant organisations.
Generally, the Trustees assist small to medium-sized charities with annual incomes of up to £5m.
The Trustees fund projects, but are willing to consider core funding for organisations whose work they know.
Local (London) charities have been helped where there is a link with the Trustees' work or knowledge - this means London-based local charities, and not regional ones.
Restrictions and exclusions
The Charity will not assist:
individuals
large national or international charities
animal welfare
publications and journals (unless as part of a supported project)
general appeals
any charity whose beneficiaries are restricted to particular faiths
educational institutions, unless for a particular project the trustees wish to support
arts organisations, unless there is a strong social welfare focus to the work (e.g. community arts projects)
Grant Conditions
All grants are awarded subject to general and specific conditions which must be met. Click to Grant Conditions
---